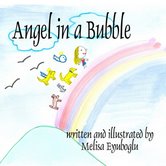 Written and Illustrated by Melisa Eyuboglu
Published by Guardian Angel
Guardian angels are being turned into bubbles! Join Alison and her pets—a golden retriever, a deer, and a mouse—as they cross forests, hike mountains, and climb rainbows in order to find God and help the angels. An adventurous, mythical journey!
Author/ Illustrator Melisa Eyuboglu is nine years old. She loves playing the violin, writing, illustrating, reading, and shopping. Her favorite book is Bunnicula. She dreams of becoming either a veterinarian or a violinist one day. Playing with Amigo, her golden retriever, is one of her best pastimes.
Reserve your ad for only $5.00 for an entire month!
One small banner/logo and 450 characters with spaces.
Email me at: museitupeditor@gmail.com
with Muse Ad Info on the subject heading.
Has to be writing related:
book release
writing services
newsletter
etc.
Ads are placed on various pages within the Muse site.
First come, first served.
Only 2 ads per any webpage.